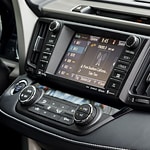 Driving is about much more than looks. You want to make sure you are comfortable for the journey ahead. The Toyota RAV4 accounts for all of this with the design of its latest model. This is part of the reason why it has become such a popular SUV and one that your family can really enjoy driving around [geo] for years to come.
The dual-zone automatic climate control system is a real game-changer. This one even comes complete with a filter that takes out the dust and pollen that often gets trapped inside a vehicle. There are even vents in the rear seats for added comfort.
To make sure that everyone stays connected while on a trip of any length, there is also a wireless smartphone charging feature that is Qi-compatible. You will get the added benefit of a charge indicator light to let you know when the battery has sufficient power. Everyone inside can take advantage of this feature.