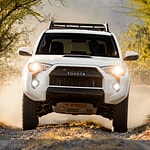 The Toyota 4Runner was mainly designed to be an off-road vehicle. This is mainly attributed to the clear ground clearance of this specific vehicle. This particular vehicle also has a unique design. It is worth noting that this vehicle can also be used as a family car.
This vehicle is fitted with unique LED headlights, which enhance a thrilling driving experience mostly at night. This vehicle is also fitted with LED fog lights, which can also be used as daylights. These lights. In terms of tailgate lighting, the Toyota company left no stone unturned. The Toyota 4Runner is also fitted with quality LED taillights.
This vehicle also features 17-inch tires, which enhances the performance of the vehicle. Roof rails which enhance the appearance of the vehicle are also featured. The Toyota 4Runner also has power mirrors that are heated. This car also has mudguards both on the front and rear wheels.
The exterior features of this vehicle can simply be described as fantastic. You can visit Lithia Toyota of Grand Forks to checkup the exterior features of this vehicle.