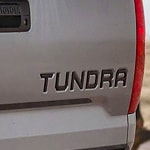 Toyota has long been known for selling high-quality vehicles that are economical, high–performing, and very durable. The Toyota Tundra, a popular full-size pickup truck has definitely kept with that tradition. The Toyota Tundra is not only a durable vehicle but one with many technology features. Stop at Lithia Toyota of Grand Forks for more information on the various technology features found in the Tundra.
One of the most popular technology features in the Toyota Tundra is the Apple CarPlay® compatibility. This feature allows you to connect your Apple phone to the trunk and enjoy the same technology you experience at home while you're out on the highway. You can make calls, send texts, listen to podcasts, get driving directions, and more. With the Smart Key System activated, you can lock and unlock the Tundra even if your keys are in your pocket.
We would love to invite you to our dealership in Grand Forks, ND so you can test drive the Toyota Tundra. It's the best way to truly experience its many features and capabilities.