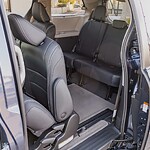 You wake up one day and decide that you want to drive in a vehicle that keeps you and your family safe and comfortable at all times. When you find yourself in that position, the only thing you can do is go for something like the Toyota Sienna. It is by far the best option for comfort.
There is plenty of seating and cargo space at the same time. In addition to that, there are a lot of special touches like a Blu-Ray entertainment system for the passengers. Those with children know how important it is to keep them occupied while on a long journey. Just pop a movie in and you should be good to go.
Toyota has taken other liberties to include things such as the ability to use the auto access seat to get a child's seat into the vehicle easily. You can't beat that. Your day will move so much more smoothly with this vehicle.