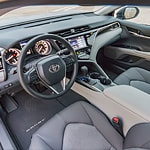 For decades, the popular Toyota Camry has led when it comes to reliability. Now, the top-selling mid-size sedan is making a claim as a top performance sedan. So what makes the Camry a top performer on the road?
The Camry has the unique ability to act as three different cars in one with the available Drive Mode Selector. You can choose between Normal, Sport, and Eco mode. The result is a vehicle that can deliver extra performance or fuel efficiency depending on what you desire.
The V-6 powered Camry offers you over 300 horsepower. However, what's even more impressive is that this same V-6 powered Camry can also deliver up to 32 miles per gallon on the highway.
You will be surprised by the top performance features of the Toyota Camry. Please visit us today and take a test drive at Lithia Toyota of Grand Forks. We're ready to save you money on your next Camry.